ETS provides Access Control Systems with latest features to perform authorization identification, authentication, access approval, and accountability of entities through login credentials including face recognition, face mask detection, body temperature detection, biometric, passwords, personal identification numbers (PINs) and physical or electronic keys.
Pertaining to the growing demand and security concerns, access control has always been vital for every organization. Main objective of the Access Control is to begin with – protect physical, IP and human assets. This requires restricting unauthorized people from reaching pre-defined areas. Moreover, the basic question of who, where and when with adequate flexibility and scalability needs to be addressed with door access control system. To meet this requirement, ETS presents an adaptive, modular, scalable and function-rich Access Control Solution. It is designed to meet access control needs of any organization irrespective of its size, locations, layouts, and timings.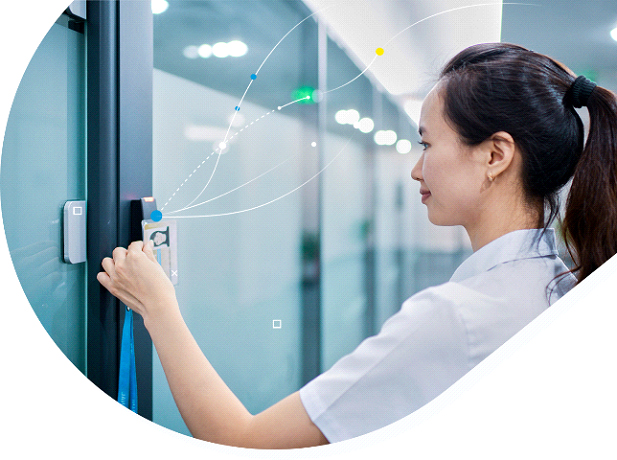 We are specialized as well in customizing the access control software based on client requirements. We provide access control solutions and products for applications ranging from small multi-door systems to enterprise-wide, networked systems.
Access Control & Time Attendance Systems help companies, shops, corporates, government firms, hotels, hospitals, SMEs and individuals to manage their workforce professionally with accurate date and reports.
ETS specialized to provide scalable solutions from one or two doors with few users to hundreds of doors and thousands of users.
RFID Access/Time Attendance System
Fingerprint Access/Time Attendance System
Hand Geometry Access/Attendance System
Face Recognition Access/Attendance System
Retina Scan Access/Attendance System
Key Benefits of Time Attendance System
Time attendance access systems are being used at workplaces and are considered to be specially designed systems to perform the task of tracking hour numbers worked by the employee. Previously, the tasks were performed mechanically. However, with advancements being made in the technological field, there has been introduced access control time attendance system to help record working hours. The attendance devices are skillfully used to regulate employee timings in the business institution to monitor their entries and exit timings. Different organizations make use of attendance system, which depends upon the unit size, employee number and affordability factor. Also is present sophisticated and simple attendance system which is used for carrying out desired tasks. Biometric data collection from employees for the purpose of time attendance is regarded to be the latest introduction in the market. Monitoring worker punctuality has become a great necessity to increase the overall productivity of the employees in all working environments. Worker punctuality monitoring will be required due to several issues which might cause unrest at the workplace.
We are partnered from the leading manufacturers like: Watchnet, Honeywell, ZKTeco, Fermax, and much more.